Valérie Augros at ESHTE Conference of October 2017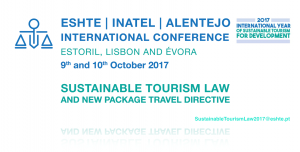 Valérie Augros was speaking at the ESHTE/INATEL International Conference in Portugal on 9 & 10 October 2017. This year, lawyers and academics from Europe but also from other regions in the world debated about sustainable tourism law but also on the new package travel directive.
Valérie's presentation was entitled: "The implementation of the new PTD in France: a balanced deal between all actors?" It merely addressed how the implementation of the new European directive (EU/2015/2302) would impact the French travel industry.
Indeed, the directive strengthens travellers' rights. As a result, the travel businesses will have to anticipate at an early stage likely risks when offering a travel package and will support broader duties (information obligation, remedy, price reduction, compensation, etc.). The directive further aims at ensuring competitiveness between travel businesses and a better access to the internal market. However, such an aim is under question at the moment given that the directive extended its scope not only to broadly redefined packages but also to linked travel arrangements. In addition, the issue of the regime of liability applicable to the organisers as well as retailers is of significant concern given the current strict liability regime and severe case law applicable in France.
The ordinance transposing the directive under French law should normally be adopted before the end of this year.
Click here for Conference program